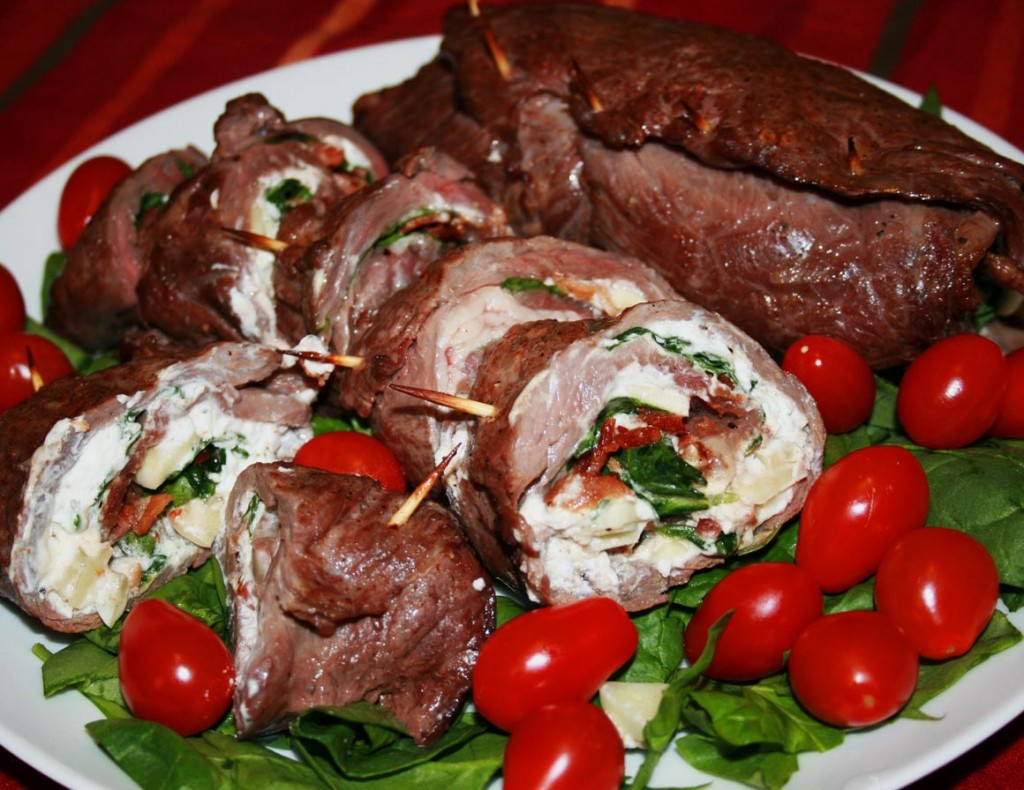 This week's newsletter will be short and sweet, for we have a long list of orders to prepare for this weekend and packing up!
LAST CHANCE DALLAS

As we mentioned last week, we are moving our business to the San Antonio metro area after this weekend. We will still be offering the same great products, but are limited to pick up and delivery in and around San Antonio.
If you are in the Dallas area and interested in picking up an order at this weekend's farmers market, please let me know by 7pm on Thursday, March 24th. I can get it made fresh and have it waiting for you on Saturday or Sunday! Our baked goods freeze well, so stocking up is very doable!
We will miss you after we leave, and be sure to look us up if you are down in olde San Antone!
RECIPE
The great thing is that there are no grains in this recipe. The other great thing is that it is easy, high protein, nutritious and darned pretty. Serve with all kinds of fresh spring vegetables and you are good to go!
Stuffed Flank Steak
1 – 2 large flank steak (1 ½ – 2 pounds total)
8 ounces bacon
½ cup red onion, finely chopped
4 garlic cloves, sliced
4 – 5 ounces goat cheese
1 Tbsp fresh oregano leaves, coarsely chopped
8 ounces baby spinach leaves
8 – 12 wooden toothpicks
Preheat oven to 400 degrees.
Slice bacon into ¼ inch strips. In a medium skillet over medium heat  cook bacon until it begins to release fat. Add onion and garlic and continuing to cook until garlic slices begin to brown. Transfer bacon, onion and garlic to paper towel to soak up extra grease.
Lightly salt and pepper the steak. Place steak between two layers of cling wrap. With a tenderizing mallet or side of a regular hammer flatten steak until about ¼ inch thick. Remove the top layer of wrap.
Spread the goat cheese on the steak, leaving about ½ inch border around the edges. Make a layer of spinach leaves on top of the cheese. Sprinkle the bacon, garlic and oregano on top of the spinach. Add another layer of spinach. Sprinkle spinach with a little more salt.
To roll the steak, begin by lifting the wrap edge on the long side of the steak, pull the steak off the wrap and begin curling it over the spinach. Continue rolling it, squeezing slightly to keep the roll an even size along the length. When completely rolled, place the seam facing up.
Impale the roll every inch along the seam with toothpicks. If it is thin enough on the ends, weave a toothpick across them to seal it – like you would a straight pen through cloth. Place the roll in a shallow baking dish or baking sheet covered with foil.
Bake for 20 minutes. Turn oven temperature down to 350 degrees and cook for 20 – 45 minutes longer, depending on thickness of steak and desired doneness.
LOCATIONS
Saturday, March 26, 2016, 8am-5pm:
Dallas Farmers Market
.  Unfortunately this will be our last Saturday at the Dallas Farmers Market. This is the perfect time to stock up on your favorite Grain Free Haven products, for the baked goods freeze well and the nut mixes have long shelf lives. Send me a note or give me a call and your order can be waiting for you this weekend or next!
Sunday, March 27, 2016, 10am-5pm:
Dallas Farmers Market
. Our last Sunday at the Dallas Farmers Market brings you our popular Breakfast Mix, Power (Paleo) Bread and a variety of muffins, like Banana Bread, Strawberry Shortcake and Orange Ginger! We will also have plenty of our famous Chocolate "Cinn" and Cajun Cashews!
DISCOUNT CODE
If you come by my booth and tell us this week's discount code you will get $1 off any purchase of $15 or more! The code for this week is STOCK UP!
Please feel free to forward and share this newsletter with anyone you like! We look forward to seeing you this weekend!