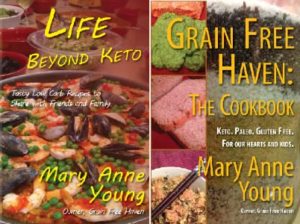 We have two cookbooks to help you on your grain free food journey!
The first cookbook was published in 2018, Grain Free Haven: The Cookbook. It focuses on staples like bread, pizza, muffins and satisfying replacements for traditional dishes. It is a great way to transition your eating habits with grain free, low carbohydrate meals.
The second cookbook was published in 2021, Life Beyond Keto: Tasty Low Carb Recipes to Share with Friends and Family. It focuses on dishes that are compatible with ketogenic eating, while also adaptable for family and friends who have different eating styles.
Both books are currently available as a paperback or ebook. Just click the titles above to get more information.
Discounted copies signed by the author are available at various farmers markets and locations throughout San Antonio. Keep an eye out for updates on our Location page!!